RealNex Navigator
The only platform you will utilize all day long
Put all your information
at your fingertips.
With the RealNex CRM you have fast access to all your information on your desktop, in the cloud and in the palm of your hand. An incredibly easy to use and flexible system enables you to efficiently manage relationships, understand markets, develop business and manage deals.
Those who maintain their database are always going to make money. Using the RealNex CRM, I know what all of my clients own and what they'd like to buy. When I come across new opportunities, I query my database for leads instead of going through 1,300 records one by one. I can pull up every investor who buys Class A apartments. I can narrow my search by selecting 'student property,' and now I've got 50 buyers. When I select 'stabilized property' – boom! I now have 13 people who buy this exact type of complex. It's irreplaceable.
Beau Beery |
Beery Rainsberger Group, Coldwell Banker Commercial
Leasing Simplified.
Our Transaction Manager makes leasing a breeze. Our online portal and mobile app allow you to easily set up and share tours. Clients can quickly and easily view offerings without ever leaving the office. Focus only on the short list to tour and allow our rating system to rank choices. For Leasing Agents, stay connected with landlords with real time alerts of inquiries, tours, proposals, negotiations and the ability to negotiate leases online. Instantly track deal progression to assure budgets are met and leases are signed.
Create winning
presentations and
detailed analysis
with ease.
Eliminate redundant tasks and gain more time for deals by instantly accessing all your CRM property data from MarketEdge to create complete financials, persuasive proposals, elegant flyers, business winning BOVs and comprehensive offering memorandums. Draw upon a library of templates to rapidly create just the right presentation, all consistently and beautifully branded to meet your company's impeccable standards. The system comes loaded with over 60 presentation designs.
Using RealNex as our company's CRM has allowed us to be more proficient in the deal making process. We can go to a property record, create a project and/or listing, create the OM and other marketing materials, send the materials from our dashboard and use our deal room for all due diligence materials, agreements and images, putting the entire transaction in one location. We can even set different levels of security for the documents to ensure only the correct people are getting the right documents. Thank You RealNex!
David K Monroe, CCIM |
Senior Multi-Family Advisor, SVN - Toomey Property Advisors
Streamline and
accelerate the
sales cycle.
A complete end-to-end solution featuring private and secure Virtual Deal Rooms to facilitate transactions. Control access with an automated NDA and manage 7 levels of security. Tap your CRM to pinpoint the most likely prospects and run an eMarket Campaign from our MarketPlace to drive traffic. Monitor all access and activity to identify levels of interest and then call for offers to quickly and efficiently close deals for highest value.
The RealNex Suite of products is unsurpassed in the commercial real estate industry. The new MarketPlace user interface, search abilities, and report sharing minimizes our response time to clients requirements. MarketEdge provides the tools to analyze and take on and off-market opportunities to our clients quickly. The CRM holds every call, every contact, every piece of market information we have and can be easily found and used when we need it. Thank you RealNex for providing excellent products focused on helping us do business better and faster!
Suzette LaGrange, CCIM |
Senior Vice President, Colliers International
Rapidly access a
world of engaged
prospects and just
the right new
property.
When you are ready to promote your offering tap the RealNex MarketPlace. With one click your CRM property data is accessible in our dynamic, free global property search engine. Not only do all listings get full exposure and all browsers see all listing, but you can target and run eMarketing Campaigns to our vast universe of active professionals and investors. Our detailed analytical dashboards report all the activity and results so you can quickly identify hot prospects.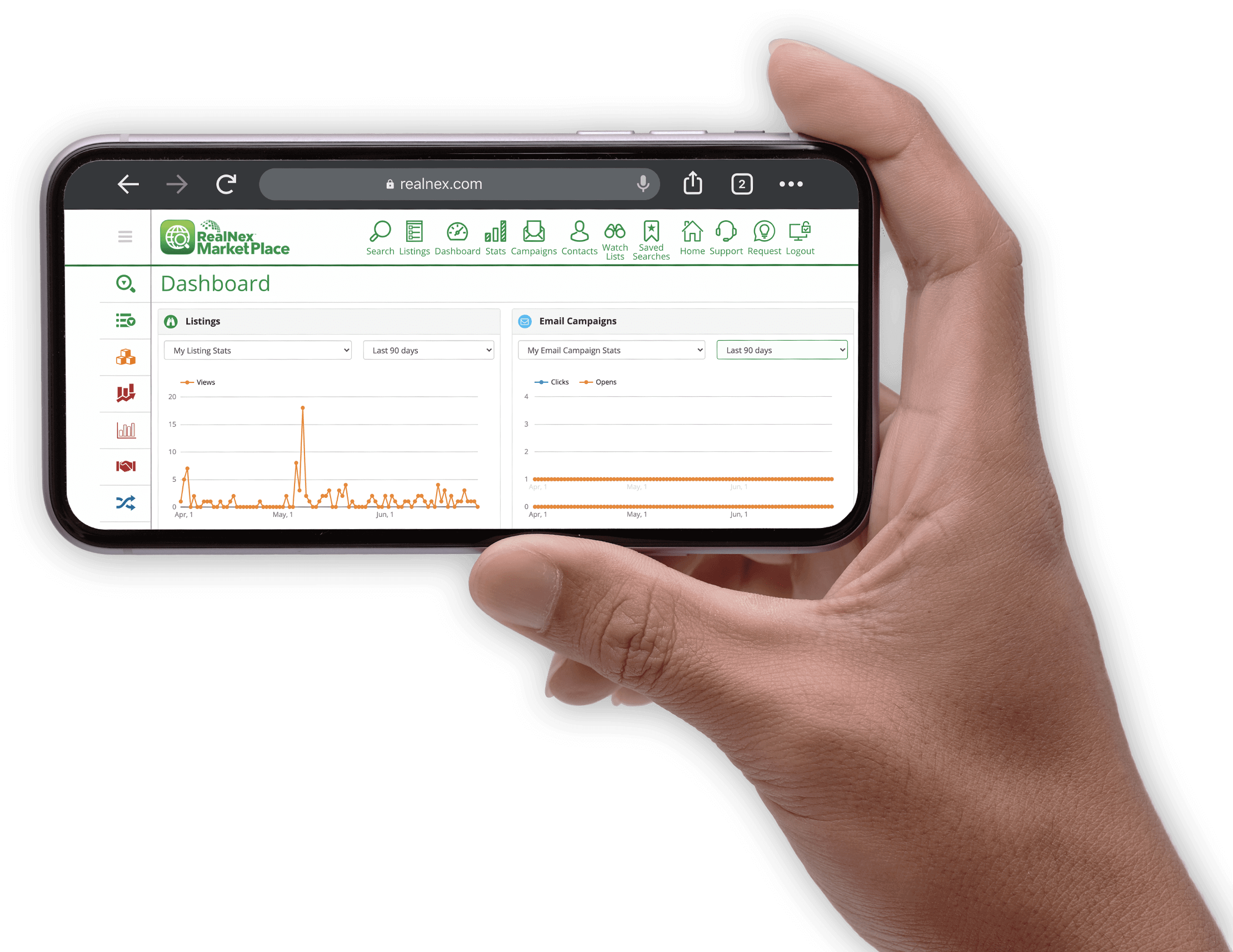 RealNex has played a monumental role in marketing our commercial properties. We love that the email blasts are completely customizable and are seen by such a wide network of potential buyers. RealNex makes it easy to gather intel and track results, plus their customer service is outstanding!
Gary Gallelli |
Partner, Managing Director, Gallelli Real Estate